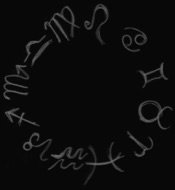 When I awoke from a dream with a distinct image for my next painting, even the size of the canvas, I quickly sketched it as best I could remember: a circle with symbols I did not recognize. The next day while shopping for a birthday card I saw renditions of my dream symbols: The symbols for the signs of the Zodiac. I knew there were 12 signs of the Zodiac but did not realize they each had a symbol.
Uncertain how to begin, I randomly chose a sign to start. I read about the characteristics of the sign then meditated on what the image would look like, sketched it out and began the process intuitively. The process was arduous; the symbols were sculpted to appear 3-D. I quit after the 4th sign.
A company that printed Astrological materials contacted me. They had seen the four completed paintings and wanted to use the images in the following years calendar. I would need to complete the additional eight Zodiac signs as well as a cover painting with all 12 signs, in just three months.
The images were used in the year 2000 and again for the 2014 Calendars, Pocket Astrologer and Celestial Guide and were distributed throughout North America.
All the Zodiac paintings are 30" x 40"