Born and raised in Kelowna, B.C., Canada, I attended the Alberta College of Art in Calgary, studying both commercial and fine art. I furthered my artistic studies at the Ontario College of Art in Toronto as well as privately in Los Angeles. After extensive travel, my husband and I settled in Vancouver, B.C. with our son.
At sixteen our son was killed in a hiking accident. Our life changed forever. I had always painted, but prior to our son's death it was more from the outside (adapting physical images). Since the tragedy I paint from the inside (developing emotional images using unfamiliar concepts that come to me). My subject matter constantly varies; from life around me, to people and places from ages past. Whatever the subject, I honor it and do my utmost to preserve its integrity as I capture the image. Each painting becomes a new experience as well as a surprise for me.
My first solo show, "IMAGES FROM A BROKEN HEART," was formed and created during the nine years after our son's death. The paintings came from my spiritual vision – a journey through life and death, love and joy – a journey of healing. Since that first show I have exhibited in numerous solo and group shows throughout Canada and the United States.
I do illustrations for children's books and have done the artwork for a major astrological calendar, for the year 2000 as well as 2014, that was distributed throughout North America.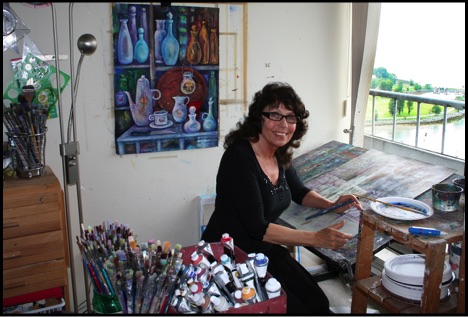 CREATIVE AWAKENING is my complimentary business. Adapting my techniques, I teach Intuitive Painting. My unique method of teaching allows the most inexperienced person to become an "artist" in a very short period of time. I teach small classes from my studio in Vancouver, B.C. but also conduct workshops locally and internationally.
Contact: anitanairne@telus.net