TESTIMONIALS
"I own three of Anita Nairne's paintings. They are of exceptional quality, a quality that comes from inspiration. Spiritually intellectual - a knowledge from inside. Her paintings remind me of Chagall's - they come from inner space, catching the emotion of the subject. The images go beyond what we see with our eyes making a deeper connection. Magic from the inside - won't find anything like it anywhere else. Makes you connect with your own self."
~ Denise Sweeney-Zmeyanna, Vancouver, BC.
"Your work truly shows you have experienced love at its greatest and loss at its fullest. Grand paintings."
~Jacquie Cliffe, Vancouver, BC.
"I attended the opening reception of your Images From a Broken Heart exhibition and was very moved by your collection of paintings and poetry. I found your work to offer such insight, truth, comfort and compassion to the experiences of life and death. I was touched by the images."
~Kristine Gagon, Vancouver, BC.
"I have purchased a number of Anita Nairne's paintings for myself, family and friends. What I like about my paintings is every time I look at them it's like seeing the painting for the very first time. You never get bored with the paintings, they are always fresh. Each time you look at Anita's paintings you see something different in it. The colors are exceptional, I even chose the color scheme in my new condo based on my favorite painting."
~Rod Chapman, Vancouver, BC.
"I own the Mt. Carroll Art Gallery in Mt. Carroll, Illinois. One of the artists that I feature is Anita Nairne, and I personally own two of her paintings. Her work is masterfully executed and the pieces that I have hanging in my home have brought me great joy, peace and tranquility. A lady from Chicago that recently purchased 'Birth of a Galaxy' spent a long time deciding which picture to take home as she loved them all. She wanted me to tell Anita that it had been a most difficult decision for her and that she was thrilled with the work and would get endless enjoyment from it. Anita's work has been a wonderful addition to my gallery."
~Nadine King, Mt. Carroll, Illinois
"Extremely emotive. Many of the pieces require repeated viewing and reflection."
~Nina Chatelain, Vancouver
"Beautiful! This is a most moving display of modern art I have seen."
~Don Darwell,Victoria, BC.
In fact, Anita has not always painted this way. It was only after her teenaged son, Roderick, died in a hiking accident in 1987 that she began to explore ways of using her painting to heal her broken heart. At first, she received direct messages from Roderick in the form of visions and voices guiding her very specifically about how and what to paint. Her 1996 show at the Gallery Gachet in Gastown, her first show after her son's death, was a collection of pieces directly channelled from him. He showed her such details as what size and shape canvases to use and even revealed to her the name of the show: "Images from a Broken Heart." The title painting in the show is a deeply moving image of a boy angel hugging a large heart which is made up of muted photographic images taken from Roderick's short life. Although Anita says she rarely receives such specific guidance anymore, she has continued to use her painting as "soul therapy," as she calls it. Each painting she does now is a new experience for her and she never sets out to paint something specific. As a result, her subject matter varies from ancient ruins to the zodiac signs, and everything in between.
Anita also offers private and semi-private "Paint with Angels" classes from her home. "There is not a person who can't learn to paint," says Anita. "In fact, people who have never picked up a brush are easier to teach because they have no expectations." She sees herself not so much as a teacher, but a facilitator. Her role, she says, is to serve as the key by which individuals can open doors. In her classes, she likes to remind students that there are no rules, no mistakes, no criticism and no comparisons. "Some people become fixated on landscape or portraiture," says Anita, "but anyone with a bit of training can do that. Here we learn to see not with our eyes, but with our soul. Each painting is then unlike anything anyone else could possibly have produced. Painting is always a surprise."
SHARED VISION MAGAZINE
- Jennifer Wohl
Anita Nairne is not your ordinary artist. Although she attended the Alberta College of Art in Calgary and furthered her art studies in Los Angeles and at the Ontario College of Art in Toronto, her paintings reflect a style no one could have taught her. Even her method of painting is not something she learned in art school. Her paintings are 'intuitive' and are direct expressions of her soul. To look at them, with their images of unusual coupling of animals, angels and humans, it is clear that these paintings are uniquely hers and could not have been premeditated.
"Intuitive painting is a way of painting from an inner vision, rather than from an outer vision," says Anita, who has been painting since she was 17 years old. "It means allowing yourself to express without expectations or desired results. My paintings arrive out of the paint, not out of the mind.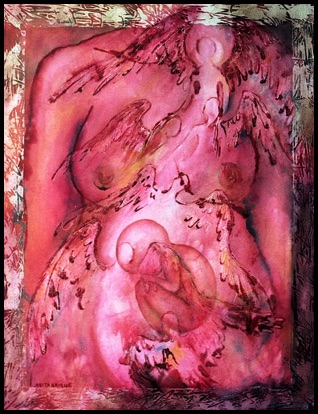 EVERWILD
~Commissioned Piece for Environmental Magazine
The complete image is a tree, the right side destroyed. On the left is a native man: the Silent Watcher. The dolphin represents Joy, the eagle wisdom. The wolf in the eye is the Guardian, and the teardrop represents Compassion.
The flame inside the teardrop is Eternal Hope. As long as man can feel compassion, all things can be healed. Beneath the tree are the rivers that carry Life, Love and Truth.
charcoal on paper
20" x 26"